Koiramme magazine
All Finnish Kennel Club members receive a subscription to the diverse Koiramme magazine. Each issue contains a wealth of interesting articles about dog-related activities.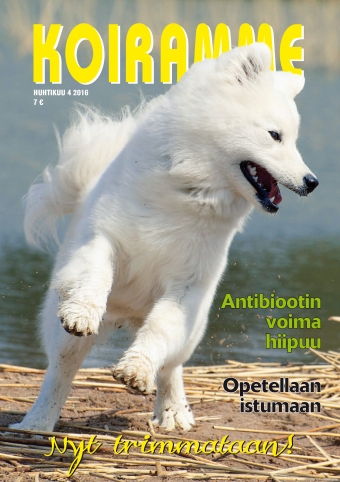 Koiramme readers can look forward to around one thousand pages of dog-themed issues each year. The magazine speaks out on behalf of better dog care, monitors canine health issues, legislation and dog taxation, reports on dog shows and trial results as well as focuses on topical affairs and the trends of the dog scene. 
Koiramme reports on the biggest events of the dog world and provides a diverse review of canine hobbies. Reports on subjects ranging from hunting to companion dog services at retirement homes are published regularly.
The magazine is mailed to each member of the Finnish Kennel Club, in addition to which copies can be found at most Finnish libraries. Issues are also on sale at kiosks and supermarkets.
A superior channel for advertisers
Finns own some 650,000 dogs. Koiramme magazine is an excellent medium for advertising and provides by far the most extensive reach for marketing products to dog owners. The magazine has about 387,000 readers (KMT circulation survey, spring 2010).
See contact details for Koiramme magazine here