Dogs and hobbies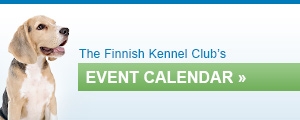 The Finnish Kennel Club is the umbrella organisation for some 1,900 Finnish canine hobby associations and can reach more than 500,000 dog enthusiasts through them.
Shows, trials and competitions are extremely popular in Finland. The annual number of dog show entries exceeds 200,000, while trials attract some 160,000 entries.
The first dog show was arranged in 1891.