New system for education of judges starting in the UK – 'Eye for a Dog' pilot assessments fully booked within 72 hours
27.3.2018
&nbsp|&nbsp Koiranäyttelyt
A new system for education, approval and listing of judges in the UK called the Judges Competency Framework (JCF) is getting off to a successful start. The 'Eye for a Dog' pilot assessments, being run in an innovative collaboration between the Kennel Club and the Finnish Kennel Club, were fully booked within 72 hours of invitations being issued.
The Eye for a Dog assessment is a key component of the JCF. The assessments will be run by the Kennel Club and have been based on a similar concept which has been successfully run by the Finnish Kennel Club for several years. At the pilot sessions, one of the assessors will be Kimmo Mustonen, chairman of the Finnish Kennel Club's Show and Judges Committee. Other assessors will be Jeff Horswell and Frank Kane who are both Kennel Club Board members and well-known judges both in the UK as well as internationally.
The purpose of the assessment is for the candidate to demonstrate having an 'eye for a dog'. The test is a key component of the JCF and a requirement to attain JCF Level 3 (equivalent of current A3 list). This one-off assessment is also required for a judge to be approved to award Challenge Certificates (JCF Level 4) to a first or subsequent breed under the JCF. For further details of the JCF, please visit the Kennel Club website.
The Eye for a Dog assessment will ensure judges have a greater understanding of conformation and movement, be able to describe how a dog is constructed and how it moves.  Candidates will also be required to identify various dog breeds. The assessment does not require any pre-knowledge of breed standards or breed specifics but will seek to assess knowledge of conformation and movement at the appropriate level for a judge awarding CCs.
Those invited to take part in the pilot assessments were candidates who had passed multiple choice exams at recently-held pilot Breed Appreciation Days, as well as group judges who are currently approved to award CCs in at least 70 per cent of eligible breeds in a group.
The pilot assessments will take place on 24th and 25th April at the Kennel Club Building in Warwickshire, UK. A total of 72 candidates will take part, split into morning and afternoon sessions of three hours on both days. Each candidate will be required to participate in one of the four sessions. 
Jeff Horswell, chairman of the JCF working party said: "The Kennel Club is delighted that these Eye for a Dog pilot assessments were booked up so quickly. We are very encouraged that this innovative approach to judge education has been so well received and we take this opportunity to thank the Finnish Kennel Club for the assistance it has given the Kennel Club in the setting up of these assessments – we shall look forward to further collaboration, which can only be a positive step for judge education in the UK."
Harri Lehkonen, chairman of the Finnish Kennel Club, said: "It is our pleasure to be working with the Kennel Club on this project. The Finnish Kennel Club has been conducting Eye for a Dog assessments for several years and find that they are a very useful tool in the education of dog show judges. We are very happy to be able to assist the JCF in this way."
Further JCF Eye for a Dog pilot assessments will be held later this year. The Kennel Club will reveal details of dates and eligibility nearer the time.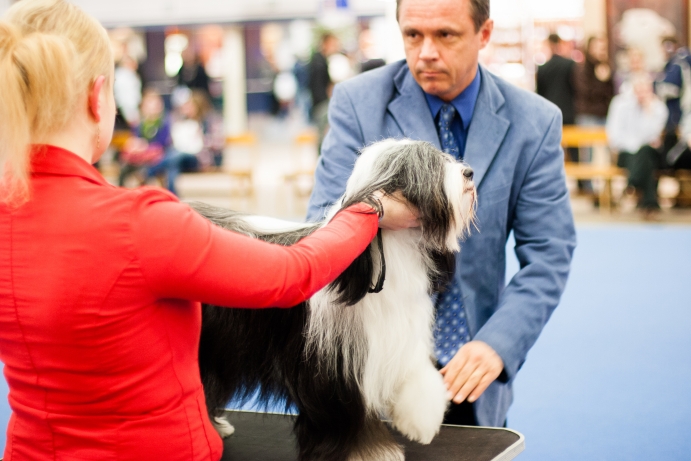 Picture: Jukka Pätynen