Dog Day 24.4.
National Dog Day is celebrated annually on 24.4. In 2017 the theme of the National Dog Day is "Finnish breeds as our national treasures".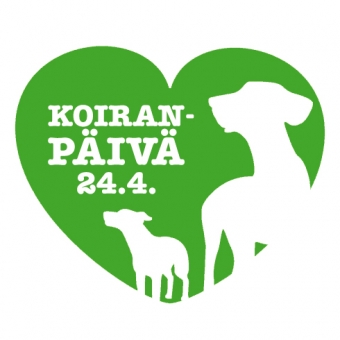 The Finnish Kennel Club aims to increase awareness of National Dog Day and to have it included in the official calendar.
Through National Dog Day, the Finnish Kennel Club wants to remind people of how significant man's best friend is. The day emphasises soft and warm values, and showcases the different roles dogs play in human life and society.
The first National Dog Day was celebrated in 2007. At the time, the Finnish Kennel Club's Future Committee was thinking about the social status of dogs and planning ways with which to make everyone aware of the good things that dogs bring. Honorary member Pertti Kuopila, who worked on the Committee, came up with the idea of a National Dog Day. Thus the decision was made to celebrate National Dog Day on 24 April, the name day of Pertti.
Themes of earlier National Dog Days:
2016 Children and dogs
2015 Good living with dogs - Responsible breeding
2014 Good living with dogs
2013 Dog ownership and responsibility – responsibility for the environment
2012 Dog ownership and responsibility
2011 Volunteer activities
2010 A healthy dog as a member of society
2009 How should children approach dogs?
2008 Canine activities
2007 Exercise with dogs